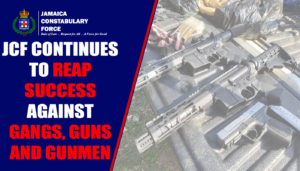 Two men linked to a series of murders are among more than 60 gang members and gunmen and who were arrested by the Police during the last three months.
Commissioner of Police Major General Antony Anderson shared the information during a virtual press briefing on Tuesday, October 3.
The police boss said the two, who have since been charged, are 25-year-old Ronaldo Rickets and 45-year-old Richard Belnavis. Rickets was charged for the murder of five homeless persons; he also been linked to other cases of rape, abduction and kidnapping. Belnavis, who is from Buckfield in St. Mary, has been charged with three counts of murder.
"Investigators in both cases are probing other related matters to ascertain whether or not these persons are associated with similar cases," he said.
Anderson also noted the sentencing of Andre 'Black Man' Bryan and other members of the gang and issued a warning to criminals.
"This is not only an indication that the Justice system is working, but I hope it sends a clear message to the criminal underworld that no one is above the law," said Major General Anderson.
Anderson also used the press briefing to express his gratitude for members of the public who provide information to the Police and encouraged others to do so.
"I must recognize the efforts of the lady who assisted with the return of Troy Ellis who had escaped from the St. Ann's Bay Hospital where he had been admitted under police guard," said Major General Anderson.
"I want to encourage persons who are not yet following us on our social media platforms to come on board, because you may be able to share something that can assist," the Commissioner urged.