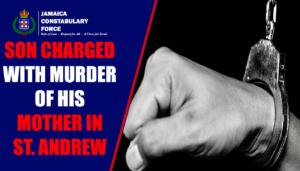 Thirty-five-year-old Damion Bailey, a mason of Red Hills Road in Kingston, has been arrested and charged with Murder following the stabbing death of 54-year-old Marvel Johnson on Wavell Avenue in the parish on Monday, October 23.
Reports from the Hunts Bay Police are that at about 7:20 a.m., Johnson, who was visiting the island to attend to her son, who was behaving boisterously. While sitting in one of the bedrooms, Bailey, armed with a knife, attacked her and inflicted wounds all over her body. She was assisted to the hospital, where she was pronounced dead.
Investigation continues.