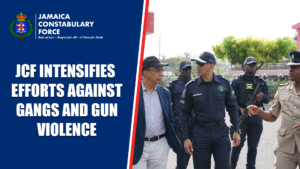 The Jamaica Constabulary Force (JCF) continues its unwavering commitment to combat gang-related violence and illegal firearms, as highlighted by Police Commissioner Major General Antony Anderson during a recent Quarterly Press Conference. The Commissioner provided updates on ongoing operations, arrests, and the progress made in dismantling criminal organizations that pose a threat to public safety.
Addressing the issue of gang violence, Commissioner Anderson reiterated the JCF's dedication to tackle the root causes head-on, "We are still actively pursuing the gangs, guns, and gunmen, which are at the source of our violence problem." He emphasized the significant efforts made by the force, stating, "We are still intercepting known gunmen and have come head-on with some of Jamaica's most wanted persons."
Commissioner Anderson highlighted the success in curbing the proliferation of illegal firearms, stating, "The seizure of the 370 illegal guns for the first six months of the year and the arrest and charge of 556 persons under the new Firearms legislation, 484 of whom were charged for being in possession of a prohibited weapon, is a reflection of the relentless efforts of our police officers in this regard."
Speaking about the relentless pursuit of gangs, the Commissioner acknowledged the upcoming sentencing of members of the Andre Blackman Bryan-led gang, following their conviction on 35 offenses. He expressed the significance of this trial, stating, "We await the sentencing of members of the Andre Blackman Bryan-led gang, following the conclusion of the trial where Bryan and 14 gangsters were convicted of 35 offenses."
Commissioner Anderson also shed light on the emergence of new gang cases, stating, "Additionally, there are two new gang cases before the Courts which involve 20 gangsters from the Ranko and Kings Valley Extension gangs." He further shared the tragic news that two members who were granted bail had fallen victim to violence: "Eighteen will face the Courts as two of the members who were granted bail were murdered by other gangsters."
Undeterred by these setbacks, the Commissioner revealed that the JCF is actively investigating two other gang cases in advanced stages, which are expected to result in approximately 50 gangsters being brought before the Courts. "The JCF remains steadfast in our thrust to disrupt and dismantle gangs. We are unyielding in our efforts to make our communities safer," Commissioner Anderson affirmed.
As the JCF intensifies its efforts against gangs and gun violence, Commissioner Anderson assured the public, "We will continue to pursue these criminals and bring them to justice. Our commitment to the safety and well-being of every Jamaican is unwavering."
The JCF's unwavering determination to tackle gang violence and the seizure of illegal firearms reflect their resolute commitment to safeguarding the Jamaican people. The Commissioner's words serve as a reminder that the fight against crime is ongoing, and the JCF will not rest until justice is served and peace is restored.