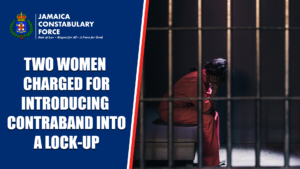 Two women have been charged with Introducing Contraband into a Penal Institution following their attempts to smuggle contraband and other illegal items into the Black River Police Lock-up on Saturday, July 01.
Reports are that the Black River Police conducted a special operation dubbed 'Crack Down' at the institution. During the operation food containers destined for inmates were thoroughly searched. Items including, one cellular phone, cigarettes, tobacco, ganja, lighter and 3ʺ concrete nails were found in the containers being delivered by the women.
Fifty-two-year-old Maudlyn Nelson Forrester, a teacher of St. Mary's district, Munro in St. Elizabeth and 41-year-old Tracey-Ann Campbell, a shopkeeper of Crawltop district in Riversdale, St. Catherine were subsequently charged.
Both women are scheduled to appear in the Santa Cruz Resident Magistrates Court on Tuesday, July 04.
Mr. Coleridge Minto, Acting Superintendent and Commanding Officer for the parish of St. Elizabeth, is warning persons to desist from attempting to take contraband into the lockups as persons found in breach will be given the full extent of the law.