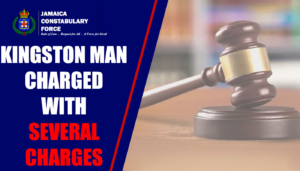 Twenty-two-year-old Jordan Raphael, otherwise called 'Brown man', Plumber of Metcalf Road, Kingston 13, has been charged with several offences regarding an incident on Wavell Avenue, Kingston 11, on Friday, July 07, 2023.
He is charged with:  
Murder Possession of Prohibited Weapon
Wounding with intent 
Unauthorised Possession of Ammunition
Reports from the Denham Town Police are that at about 4:20 a.m. on the aforementioned date. Raphael and other men lighted from the motor car and opened fire, hitting Ricardo Williams all over his body and injuring two other men before making their escape in the said motor car. The Police were alerted, and on their arrival, all three men were taken to hospital, where Williams succumbed to his injuries.
Police conducted intelligence-led lead operations after interviewing the two men, which subsequently led to Raphael being taken into custody and subsequently charged. He was charged following a question-and-answer session in the presence of his attorney.
His court date has yet to be finalised.