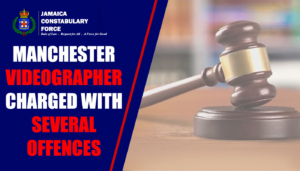 The Manchester Police have charged 29-year-old Jamar Dawkins a videographer of St. Paul's district, Manchester with five counts of Shooting with Intent, Possession of a Prohibited Weapon and Unauthorized Possession of Ammunition in relation to an incident that occurred in Mont Pelier district in the parish on Tuesday, September 26.
Reports are that about 12:45 p.m., lawmen were in an unmarked service vehicle on an operation in the area when they were attacked by Dawkins, his brother and other accomplices who fired several shots at them. The fire was returned and one of the gunmen was fatally shot and a firearm was taken from him.
Dawkins and the other gunmen escaped. On the same day, Dawkins visited the Santa Cruz Police and made a report of his brother being shot and his involvement in the incident earlier, when he was arrested. Following an interview session in the presence of his attorney, he was charged with the offences.
His court date has not been finalised and his accomplices are currently being sought by the police.