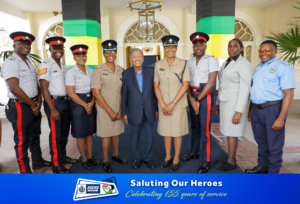 The top six contestants in the 2022 Lasco Saluting Our Heroes Competition
The Jamaica Constabulary Force has always had many proud supporters in corporate Jamaica. One of the most consistent ones, whose support and goodwill spans more than two decades, is the Lasco Group of Companies. Through its Lasco Chin Foundation, the company has supported Force efforts to recognise and reward police officers who display excellence, passion and integrity through the Lasco/JCF Police Officer of the Year competition. The annual awards became a staple on the Police calendar, but the onset of COVID-19 saw it being cancelled in 2020.
As 2021 rolled in, there were hopes that the competition would resume, but the restrictions in force under the Disaster Risk Management Regulations would not allow it. The Lasco/JCF team nonetheless wanted to recognise the unique service of the JCF during the pandemic, and thus the 'Saluting Our Heroes' series was born.
In a nod to the 155th anniversary of the JCF, this year a similar number of awardees have been chosen from across the length and breadth of the island to receive the prestigious award. Six standouts have been nominated to vie for the Chairman's trophy.
According to the Founder and Executive Chairman of LASCO Affiliated Companies, the Honourable Lascelles Chin, "LASCO has never been shy in our support of these brave men and women. If it's a health crisis we call on the JCF, if it's a natural disaster..hurricane, earthquake or flooding.. we call on the JCF. For every large gathering for sports, political meetings, church conventions, or the arrival of foreign dignitaries, name it, the JCF is present, reassuring and protecting us. Their contribution has been tremendous and we are proud of our partnership".
Activities to mark the 2022 observation of the series begin on Sunday, October 23 with a church service at the Webster Memorial United Church in St. Andrew.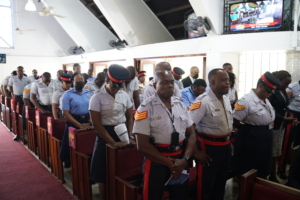 The 2022 recipients are blessed in a church service at the Webster Memorial United Church on Sunday, October 23.
The top six contestants will be engaged in a series of courtesy calls and interviews leading up to the main event on Friday, October 28. The winner will be crowned in a presentation ceremony and luncheon at the AC Marriott hotel in Kingston.