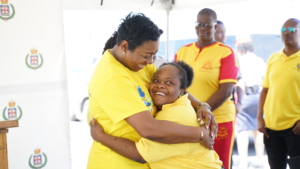 From the white sandy beaches of Portland to the green vegetation of St. Mary, the 'Flame of Hope' for the Law Enforcement Torch Run has been traversing the North Coast as the agencies partner to raise money to support special needs.
On Thursday, June 22 when the torch made its way through St. Mary, Superintendent of Police in charge of the St. Mary Division, Bobette Morgan-Simpson, said the division was aiming to raise J$100,000 through the collaboration with all stakeholders. "As the Divisional Commander, it is my responsibility to ensure that our leg for the torch run is successful and working with the Department of Correctional Services (DCS), Jamaica Defence Force (JDF), and the Jamaica Fire Brigade (JFB) has aided greatly," Morgan-Simpson added.
She further expressed, "It's a pleasure to be partnering with the other law enforcers as they have been working along with us to raise funds," she said.
JDF Private Serena Blackstock, said that partnering with the different enforcers has been going tremendously well and working together has always been a joy.
"It is an honour to help contribute towards the Special Olympics team since it's a chance to give back to our country and to persons who aren't able to come out here and do it themselves," said Blackstock.
While out with the team in the St. Mary town centres, Acting Assistant Superintendent of the Department of Correctional Services, Patrick Walker, shared that his participation is rooted in empathy garnered through his personal experiences.
"We have members of the department who are disabled and recently my colleague who was disabled passed away and it has affected me to this day. Through this initiative, I can personally help the community by raising awareness and funds to help the cause," said Walker.
The Flame of Hope moved through St. Ann today, Friday, June 23, and will be making its way to Trelawny on Saturday, June 24. The relay will take a break on Sunday and Monday, before resuming its cross-country trek in St. James on Tuesday, June 27.
Regional Director for the Law Enforcement Torch Run, Senior Superintendent of Police Stephanie Lindsay, is encouraging persons to support the fundraising effort by making contributions and pledges as the torch moves through their communities.
"We also want to invite persons to register for the grand finale—the 5K run/walk at the Police Officers Club—in St. Andrew on Sunday, July 16. Registration is done online, at runningeventsja.com."