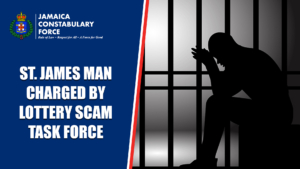 Detectives assigned to the Lottery Scam Task Force arrested and charged a man in St. James for breaches of the Law Reform (Fraudulent Transactions) (Special Provisions) Act following a series of operations in the parish on Monday, June 26.
Charged with Possession of Identity Information is 29-year-old Marklando Lamey of Valley Heights, Green Pond in St. James.
Reports are that during the operation which commenced at 10:00 a.m., a Lamey was found at a premises in Cornwall Courts, Montego Bay in the parish. An onsite analysis of his cellular phone revealed several files with identity information of persons residing overseas.
Consequently, this led detectives to Lamey's residence in Valley Heights, where documents populated with names, addresses and telephone numbers of persons residing overseas were found inside a dresser drawer.
He was subsequently arrested and charged. His court date is being arranged.