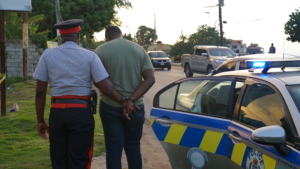 A team of officers assigned to the Westmoreland Police Division arrested and charged one man in relation to the seizure a Browning 9mm pistol with a magazine containing three 9mm rounds of ammunition during an operation in Haddo district, Whithorn, Westmoreland on Saturday, April 30.
Charged with Illegal Posseession of Firearm and Amminition is 18-year-old Jernard Greenfield of Haddo district, Whithorn, Westmoreland .
Reports from the Savanna-la-Mar Police are that about 4:30 p.m., lawmen were in the area when they saw Greenfield and another man behind a shop. Upon seeing the police, both men ran and the firearm fell from Greenfield. Both men were caught and placed into custody. Following a question and answer session in the presence of their attorneys, Greenfield was charged. However, his court date has not been finalised.
The other other man was subsequently released.