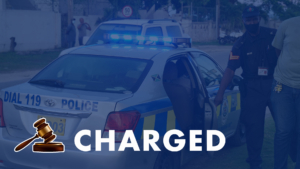 A team of officers assigned to the Westmoreland Police Division seized one Bersa Thunder 9mm pistol with a magazine containing three 9mm rounds of ammunition during an operation in Gordon district, Whitehouse, Westmoreland on Wednesday, April 27.
Charged with Illegal Possession of Firearm and Ammunition are:
· Twenty-one-year-old Rojay Webb
· 18-year-old Kyle Campbell and,
· 20-year-old Anthony Frazer, all of Gordon district, Whitehouse, Westmoreland.
Reports are from the Whitehouse Police are that about about 4:48 a.m., lawmen were in the area when they searched a premises that was occupied by four men. During a search of the premises, the fiream was found under a pillow on a bed. Following a question and answer seession in the presence of their attorneys, Webb, Campbell and Frazer were jointly charged. However, their court date has not been finalised.
The fourth man was questioned and released.