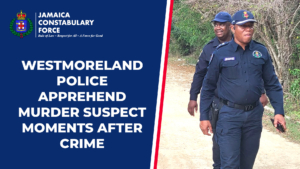 Head of the Westmoreland Division, Senior Superintendent of Police (SSP) Wayne Josephs is commending a team of Police officers for quickly acting on information that resulted in the apprehension of a murder suspect and the seizure of a getaway vehicle moments after the murder of a man in Masemur, Little London on Saturday, April 22.
Reports are about 10:40 a.m. one of two men in a white Toyota Axio motorcar shot and wounded a bike taxi operator on Top Road, Little London. A Police officer, who was in the vicinity intervened, which resulted in an armed confrontation. The men escaped in the area, and the wounded man was transported to the hospital, where he was pronounced dead.
Shortly after the incident, the police received a distress voice note in a work WhatsApp group about the vehicle that was involved. A team, including a female Police Sergeant, who was off duty, responded to the incident, where the vehicle and the suspect were seen. The suspect was immediately taken into custody, and the vehicle seized.
"This level of commitment and vigilance by my officers is unmatched, and I commend the team leader and the probationer constable, who responded to this voice note as soon as it was received. My team of officers demonstrated what it means to be A Force for Good and principles of Service Above Self," SSP Josephs.
"I must also extend appreciation to all the other team members, including my Detective Corporal, who intervened while the incident was in progress, putting himself at risk in the defense of law-abiding citizens. I want to use this opportunity to also recognize the role our citizens continue to play in supporting the Westmoreland Police," continued SSP Josephs.
The deceased has since been identified as 47-year-old Oswell Brown otherwise called 'Scatter' of Ebenezer District in Little London, Westmoreland.
Investigations are ongoing.