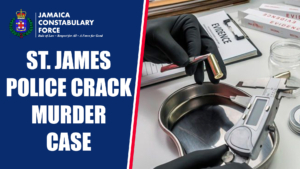 Police in St. James have solved an August 2022 murder case, thanks to their exceptional investigative skills and the use of ballistic science.
On Wednesday, August 31, 2022, Anthony Junior Williams, otherwise called 'Sunny T', was shot and killed by unknown assailants between 2:00 a.m. and 10:00 a.m. in Bamboo Lawn, Lilliput, St. James. Citizens reported hearing gunshots around 2:00 a.m. and Williams' body was discovered about 10:00 a.m. Detectives from the Barrett Town Criminal Investigation Branch launched a probe into the murder and a post-mortem examination later revealed that he died as a result of multiple gunshot wounds.
On Saturday, October 8,2022 three men were fatally shot and three pistol seized during a joint police-military operation in Hague Settlement, Trelawny. In December 2022, a ballistics report confirmed that one of the recovered pistols was stolen from an elderly licensed firearm holder and was subsequently used to kill Williams.
Trevor Rhynie, also known as 'Tella' or 'Beanie,' was positively identified by a witness on Tuesday,April 3 as the person who shot and killed Williams. He was one of the three men killed in the shootout with the police and military in Hague Settlement, Trelawny.
This case highlights the importance of ballistic and forensic science along with traditional investigative strategies in solving crimes. This achievement is significant in the fight against crime in St. James, and it sends a strong message to criminals that they will be brought to justice.
Meanwhile, the Jamaica Constabulary Force is urging licensed firearm holders to secure their weapons with due care. Should you fall ill, you and/or your relatives are being reminded to make proper arrangements with your local police and the Firearms Licensing Authority (FLA) for safe storage.