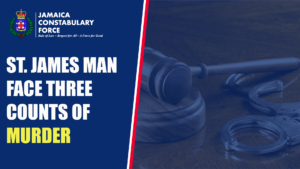 Twenty-five-year-old Kniston Reid otherwise called 'Pam Pam' of Roehampton, St. James has been charged with three counts of Murder following an incident in Mars, Roehampton in the parish on Friday, June 23.
He was charged with the murder of:
1. 38-year-old Conroy Lawrence otherwise called 'Beenie' a warehouse attendant
2. 38-year-old Shevan Gordon otherwise called 'King Kong,' 'Kong' and 'Terry'
3. 56-years-old Carlesley Morris otherwise called 'Shotta,' Taxi operator; all of Roehampton in the parish.
Reports from the lawmen are that on Monday, June 23 about 9:20p.m., the now deceased men were at a location in Mars, Roehampton when residents reported to the police that they heard gunshots. The lawmen arrived at the scene to see all three men lying motionless on the ground. Two of the men had chop wounds and one had gunshot wounds.
They were transported to the hospital where death was confirmed.
'Pam Pam' was held thereafter and placed in custody based on an eye witness statement. He was officially charged on Tuesday August, 01. His court date is being finalized.