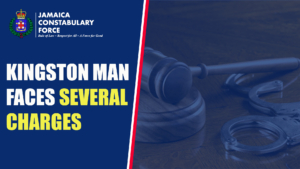 Police assigned to the Kingston Eastern Division have charged an 18-year-old student following an incident at the intersection of Victoria Avenue and Elletson Road, Kingston on Sunday, July, 23.
Charged is Kimani Small otherwise called 'Kun', of Anderson Street, Kingston.  He has been charged with Assault with the intent to Rob,  Assault at Common Law and Being Armed with a Prohibited Weapon.
Reports from the lawmen are that Small and another man boarded a taxi in the Manley Meadows community about 11:00 a.m. One of the men sat at the rear of the vehicle whilst the other sat in the front passenger seat. The one at the back reportedly brandished a firearm, which he placed at the driver's head and demanded all his property. The man started to speed and both men jumped from the vehicle.
On Monday, July 31, Small was arrested and placed on an Identification Parade, where he was pointed out. His accomplice is still at large.
A court date is being arranged for Small.