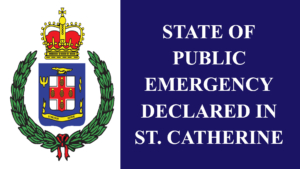 The Security Forces are advising residents and persons travelling to, or through the parish of St. Catherine that in light of the declaration of a state of public emergency in the parish, it is important to have a valid form of identification on them at all times.
The Police are also advising persons that vehicular checkpoints have been set up in the operational areas. When approaching vehicular checkpoints, motorists should slow down and roll down all windows; if it is nighttime, persons should turn on their roof lights. Motorists are being reminded of their duty in law to stop when requested to do so by a member of the security forces.
In addition, persons are being advised of the possibility of delays in the areas where vehicular checkpoints are set up, and as such, persons should exercise patience and plan accordingly.
The Security Forces apologise for any inconvenience caused, and seek the full assistance from law-abiding citizens as they work to create safer communities for all.