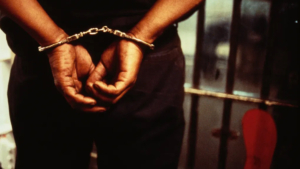 Quick action by the St. Catherine South Police led to the arrest of a suspect hours after one man was shot dead and another shot and injured on Market Street in Old Harbour, St. Catherine on Wednesday, June 15. The deceased is unidentified.
Reports from the Old Harbour Police are that about 8:30 a.m., armed men made attempts to rob a man in the vicinity of the bus park. The man ran and the hoodlums opened fire in his direction. The two men – one now deceased, who were in close proximity received gunshot wounds. The police were summoned and the men taken to hospital. The unidentified man was pronounced dead; the other is being treated.
Hours later, the police apprehended one of the suspects during an operation in Old Harbour. "The joint police/military operation is still in progress and the police will continue to pursue criminals and restore order", said Senior Superintendent Christopher Phillips – Commanding Officer for the St. Catherine South Police Division; he is currently leading the operation.