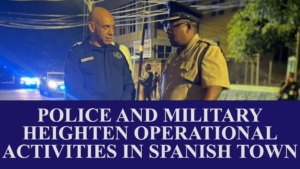 There is heightened police/military operational activities in and around Spanish Town, St. Catherine following a flare up of gang violence in the old capital on Tuesday, June 14.
The incidents began about 2:45 p.m. when gunmen opened fire at a group of people on Cumberland Road in Spanish Town. Five people, including a woman were found with gunshot wounds after the shooting subsided; two men were later pronounced dead at hospital. One of the men has since been identified as Kemar Kelly otherwise called 'Mackerel', of Prince Avenue in the parish. The other man remains unidentified – his body is of a brown complexion, slim build, about 180 centimetres (5 feet 11 inches) long and appears to be about 25 years old.
About fifteen minutes later, an unidentified man was shot and killed during a confrontation with the police at the intersection of French and William Streets. One Ruger 9mm pistol with a magazine containing thirteen 9mm cartridges was seized.
A police team conducting operations went to a premises in Dam Head district at 3:05 p.m. One man was seen with a bag. The bag was searched and fourteen 9mm cartridges found inside a bag of cornmeal. A search of the premises resulted in the seizure of one Intratec Submachine gun with a magazine containing twelve 9mm rounds of ammunition. A follow-up search was conducted and one 9mm pistol with a magazine containing fifteen 9mm rounds was also seized at the premises. The man – 27-year-old Damaine Elliston, a welder of Dam Head was subsequently arrested and charged with Illegal Possession of Firearm and Ammunition.
The intensified operations also led police to the recovery of four 12-guage cartridges and eleven 5.56 rounds of ammunition at about 3:20 p.m. in the McCooks Pen area. McCooks Pen earlier that morning had a double murder – the bodies of two unidentified men found with gunshot wounds along a dirt track.
Meanwhile, the police are urging citizens to remain calm and to report any suspicious activity in their communities. Persons can report guns, gangs and illegal activities by calling Crime Stop at 311; rewards are offered for information that leads to the recovery of illegal firearms.
There is an increase in police/military deployment in the area as well as increased operational activities to ensure the safety of our citizens.