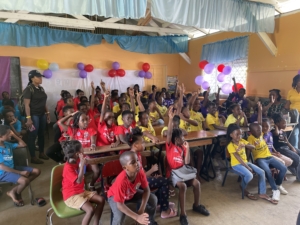 Children, teachers, the police and other community stakeholders were in a jubilant mood as the curtains came down on a successful Summer Camp 2022 in Salt Spring, St. James.
On Friday (August 19) Head of Police Area 1, Assistant Commissioner of Police (ACP) Clifford Chambers, Senior Superintendent (SSP) Vernon Ellis and other senior law enforcement officers along with Jamaica Social Investment Fund (JSIF) gathered at Salt Spring Primary and Infant School for the closing ceremony.
Under the theme "Peace, Love, Unity and Trust." The event had more than 117 campers ages 6-17 engaged in interactive drama pieces, soulful singing and powerful dances to conclude the camp's activities.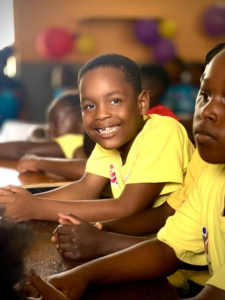 The camp ran from July to August with daily educational activities like fire safety, drug awareness, health practices, dispute resolution and more. The aim of the camp was to restore the educational learning that was missed for two years during the pandemic and to improve positive socialisation among the children.
Principal of the school, Norma Brydson, described her experience with police officers during the camp saying she saw police officers being councillors, male officers plaiting hair and officers singing and dancing. She also expressed the that the students were on their best behaviour and she was extremely proud of them.
"During this camp I saw the true meaning of community, unity and strength. This was displayed with our students coming from Flower Hill, Salt Spring and other communities so this must be the compound of choice of JSIF and JCF," said Brydson.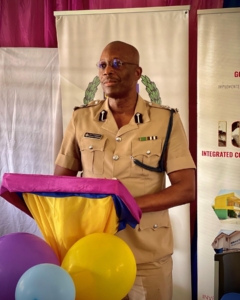 Meanwhile, ACP Chambers expressed his gratitude to JSIF, CSSB, teachers, school and other sponsors who made the camp possible "Coming together of you all is all for you, it's all in your best interest. What we're trying to do is to cause you to understand that you are most important to us you are most important to what we do and so we want to ensure that we put you on the best path to developing … to be contributors to your family, the community." said ACP Chambers.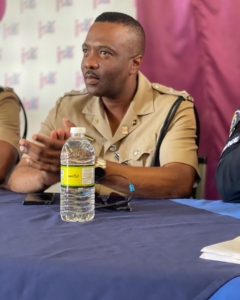 Commanding Officer for St James SSP Vernon Ellis affectionately called "Uncle" by the children. Commander in charge of St. James who made much of the students by attempting to DJ for the campers. He then gave the students the charge; "Students I ask that you continue with some of the things we taught you at the training program and camp. We ask that you keep up the good work, we want to see you grow to be good citizens of this parish."