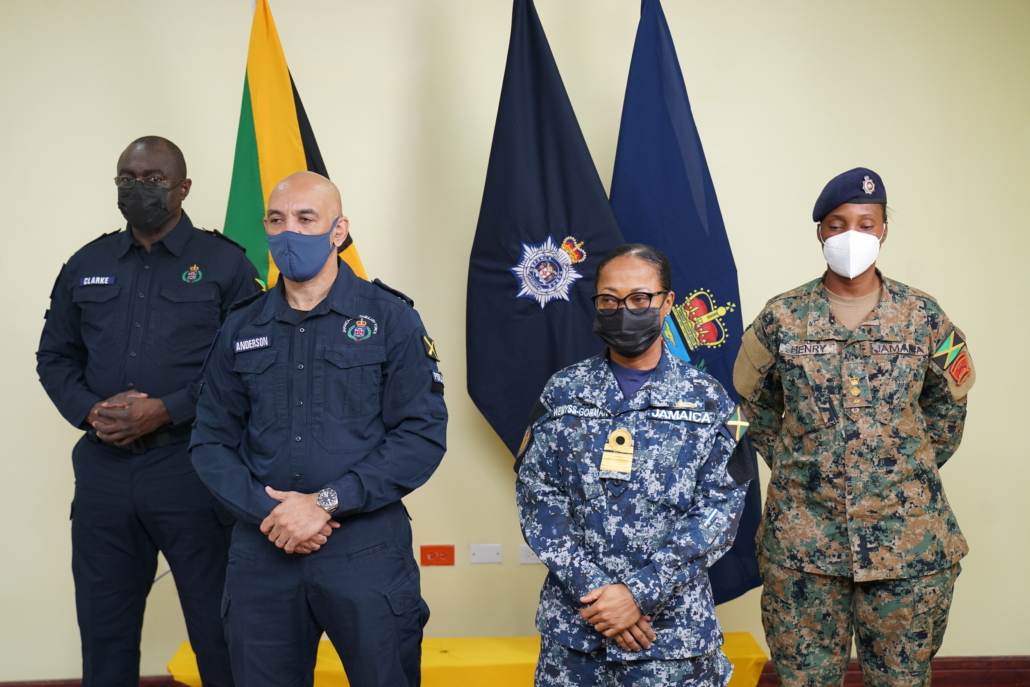 The Jamaica Constabulary Force (JCF) in partnership with the Jamaica Defence Force (JDF) officially launched the Joint Anti-Gang Task Force at the Specialized Operation Branch on Friday, February 11.
The Task Force, which has been in operation for over a week now, is designed to primarily target Guns, Gunmen and Gangsters with the deployment of specially trained members of the security forces, through the coordination of resources, including the sharing of intelligence to disrupt criminal activities across the island.
According to Major General Antony Anderson who was speaking at the launch, since the Taskforce began operation over a week ago "we have seized seven illegal firearms, over 1200 pounds of compressed ganja, we have disrupted an illegal alcohol operation that was funding a particular gang and we have arrested four persons for lottery scamming and another sixteen of them to make a total of twenty persons who were involved in violence and crime."
Commissioner Anderson said that the JCF has recruited additional highly trained members of the to bolster the compliment of persons on the task force.
"We have recruited some 70+ persons… young Jamaicans who have gone through the Jamaica National Service Core (JNSC) program [at the JDF]. They were trained for a year as soldiers and then we recruited them and ran them through the entire police training program so these are qualified soldiers, qualified police officers and they make up part of the task force and are familiar and comfortable in both the military environment and the policing environment," said Commissioner Anderson.
In emphasizing the importance of the continued synergy and cooperation between the Joint Security Forces, Chief of Defence Staff (CDS) Rear Admiral Antoinette Wemyss-Gorman pledged the full support of the JDF to the Task Force "The JDF is committed, intentional and strategic about the support we provide to the JCF as we work to reverse the norm of gunmen being comfortable in any space…through this joint initiative with the JCF, you can trust that this is our intention to create a safer Jamaica."
"In addition to the other methods being employed to address the threats faced by the nation the Joint Anti-gang Task Force will bring focused attention to gangs perpetrating violent crimes across the island" added Rear Admiral Wemyss-Gorman.
In closing, Major General Anderson asked for the continued support of the public in the ongoing quest to rid Jamaica of guns, gunmen and gangs, "We ask for public support and public confidence, so this interaction is part of us reaching out, letting the public know what we're doing."