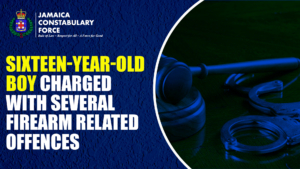 Detectives assigned to the St. Catherine South Police Division charged a 16-year-old boy with :
Possession of a Prohibited Weapon,
Unauthorized Possession of Ammunition
Removal of Mark on Firearm
following an incident on Walkers Avenue, Gregory Park, Portmore, in the parish Wednesday, August 16.
Reports are that about midday, lawmen were on an operation in the area, when a premises that was occupied by the teen was searched. During the search, one .38 revolver containing one .38 round of ammunition was found in his possession. He was subsequently arrested— following an interview in the presence of his attorney, he was charged.
His court date has not been finalised.