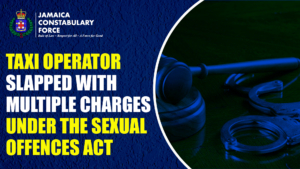 A taxi operator was charged under the Sexual Offences Act by lawmen assigned to the St. Mary Police Division following an incident in Rio Nuevo in St. Mary on Thursday, August 17.
Charged is 45-year-old Kevin Broomfield, otherwise called 'Phoenix', taxi operator of Content, St. Ann. Broomfield was charged with:
Rape
Buggery
Burglary
Assault Occasioning Actual Bodily Harm
Reports are that about 9:00 p.m., Broomfield kicked in the door and entered the complainant's apartment and a physical altercation occurred. The victim was hit in the face multiple times when she lost consciousness. She later realised that she was sexually assaulted. A report was made to the police and Broomfield arrested.
On Sunday, August 20, Broomfield was subsequently charged after a question and answer session.
His court date is being finalised.