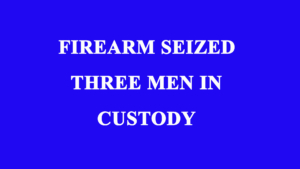 Officers assigned to Specialized Operations Branch charged three men with Illegal Possession of Firearm and Ammunition following the seizure of a Luger M5 pistol with a magazine containing four 9mm cartridges on Shortwood Lane, Kingston 8 on Thursday, April 07.
They are:
· 28-year-old Alric Crewe otherwise called 'Rasta', and
· 28-year-old Akeem Thomas otherwise called 'Keemi', both of Shortwood Lane, Kingston 8
· 28-year-old Nickardo Henry otherwise called 'Nick', of Galloway Road, Kingston 11.
Reports are that about 12:30 p.m., the team was on enquiries in the area when a Toyota Axio motor car with the three men was intercepted. The vehicle was searched and the firearm and ammunition found beneath the driver's seat. They were subsequently charged.
Their court date is being finalised.