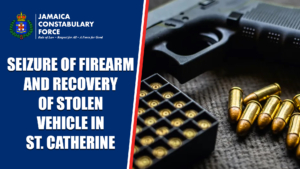 Two men and a teenage girl have been charged with Unauthorized Possession of Prohibited Weapon and Unauthorized Possession of Ammunition following the seizure of a firearm and ammunition on St. Johns Road in Spanish Town, St. Catherine on Monday, June 26.
Charged are:
· Tassieo Hutchinson otherwise called 'Theo', 36-year-old mechanic of St. Johns Road, St. Catherine
· Jesse McLaren, 19-year-old carpenter of Olympic Way, Kingston 11, and
· A 16-year-old girl of Longville Park, Clarendon.
Reports are that about 6:00 p.m., the Jamaica Eye team made contact with the St. Catherine North Patrol, giving information on a suspected vehicle. The vehicle – a Toyota Axio motor car was intercepted along St. Johns Road in the parish with Hutchinson, McLaren and the teenage girl aboard.
The occupants and vehicle were searched; one Glock 9mm pistol with two magazines and nineteen 9mm cartridges were found inside the vehicle.
The three were subsequently arrested and charged.
Arrangements are being made for them to answer to the charges in court.
The increased vigilance of the patrols also led to the recovery of a Nissan AD Wagon in Angels, Spanish Town. The vehicle was reportedly stolen from the Portmore area in the parish.
The police implore citizens to continue to support them as they remain committed in their efforts to rid the nation's streets of guns, gangs and gunmen.