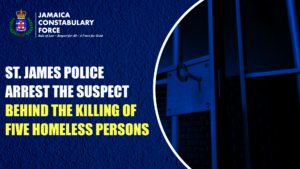 Detectives in St. James have arrested a suspect in the murder of five homeless people between June and August of this year. The arrest was made on Thursday, August 31, after the police used forensic evidence and technological prowess to link him to the cases.
The suspect, whose name is being withheld until he is charged, killed all his victims by stabbing them.
Police Chief Major General Antony Anderson made the revelation during an interview with the Jamaica Constabulary Force's (JCF) Corporate Communications Unit. "Due to good police work on the part of the St. James Police, we now have the perpetrator in custody [he is] still being questioned and will be charged soon," Anderson explained. He also added that the JCF has been making several breakthroughs in recent times, even in the most complex cases.
More information will follow as soon as it becomes available.