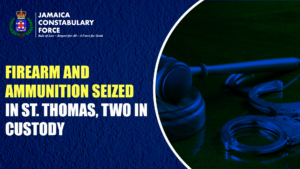 A Tanfoglio 9mm pistol and 10 rounds of ammunition were seized by the Morant Bay Police during an operation in Bamboo River, St. Thomas on Thursday, August 31.
Reports are that about 10:30 p.m., lawmen were on operation, when two men were seen in a parked Nissan Tiida motorcar. The men and the vehicle were searched, during which the weapon – with the ammunition – was found in the driver's door of the vehicle.
Investigations continue.