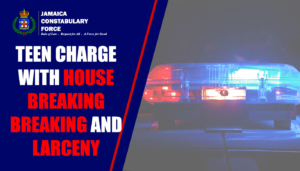 A thirteen-year-old boy of a St. Thomas address was charged with House Breaking and Larceny following an incident in Morant District, Land Settlement, in the parish on Wednesday, September 27.
Reports from the Morant Bay Criminal Investigations Branch are that the teen reportedly used a hacksaw blade to cut the lock on the veranda grille, gained entry to the house, where he ransacked several areas of the house.  He allegedly stole a safe containing 12 million JMD along with 2 gold wedding rings valued JMD$180,000. A report was made to the police and the teen subsequently taken into custody. He was interviewed and later charged.
He is scheduled to appear in the Yallahs Parish Court on Thursday, October 12.