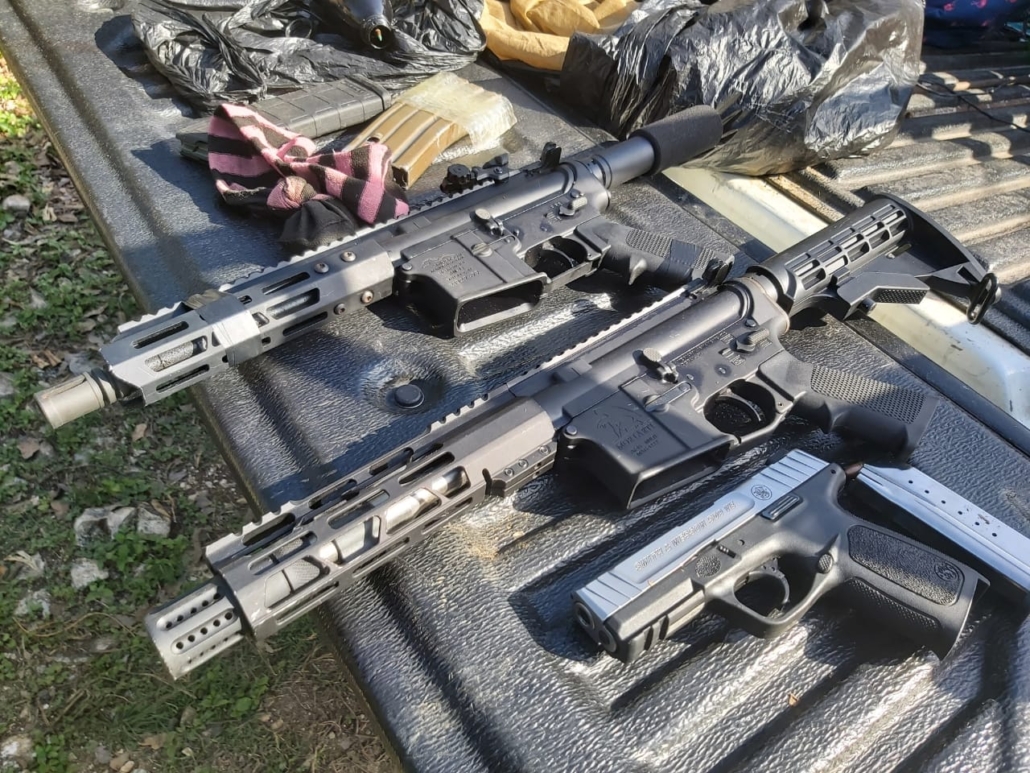 The Jamaica Constabulary Force, JCF, can report the seizures of 10 guns, including several high-powered weapons, and a quantity of ammunition in three separate incidents across Jamaica today (June 7).
Seven people have been arrested in connection with the three separate seizures.
In the latest incident, three men were taken into custody after engaging in a gun battle with members of the Metro Quick Response Unit in downtown Kingston.
Three pistols and several rounds of ammunition were seized following the incident.
Reports are about 6:05 in the evening the Quick Response Team attached to the Public Safety and Traffic Enforcement Branch, P-STEB, was on patrol when explosions were heard on Orange Street.
An unidentified man was shot and killed by the criminals.
On the approach of the Quick Response Team, the men opened fire and a gun battle ensued.
Due to the superior training of the Quick Repones Team, one of the men was arrested at the scene. Three guns and a quantity of ammunition were seized.
Two others later turned up at the hospital nursing gunshot wounds. They were also arrested.
Speaking at the Constabulary's monthly media briefing today, Police Commissioner, Major General Antony Anderson, said the Force is significantly boosting its capacity to respond to the threat of criminals.
As such, Commissioner Anderson said the Force is boosting the resources dedicated to the Quick Response Teams.
"I will say again when there is an armed confrontation with gunmen and the police, my police must win every single time," said Commissioner Anderson.
"In order to counter criminal activity, we require highly trained, highly mobile and tactical police to operate in our urban spaces. We produce more and more of that type of officer," he continued.
Meanwhile, in St James, two men were arrested in connection with the seizure of five guns in Salt Spring.
Meanwhile, around 5:00 this morning, a man who was acquitted on anti-gang charges was murdered during a shoot-out in Westmoreland.
Dead is Copeland Sankey otherwise called Tupac. Sankey and two others invaded the Crowder District community looking for a man.
When they were leaving the district, their car was pounced upon in a cane field where Sankey was shot and killed during a shootout.
Two others drove to the hospital nursing gunshot wounds. They were arrested and charged with illegal possession of firearm.
Two guns and more than 30 rounds of ammunition were seized. One of the guns and the ammunition were found on Sankey.
Another man was admitted to the hospital nursing gunshot wounds related to the shootout.