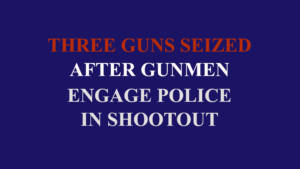 The Metro Quick Response Unit assigned to the Public Safety and Traffic Enforcement Branch (PSTEB) seized three firearms and arrested three men following a shooting incident on Orange Street, downtown, Kingston a short while ago.
The team was reportedly on patrol in the area when they responded to explosions in the area. There was an exchange of gunfire; after which, one man was arrested at the scene and three firearms along with a quantity of ammunition seized. Two of the men later turned up at hospital with gunshot wounds.
More information will follow.