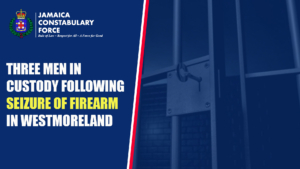 Three men were taken into custody following the seizure of a firearm and ammunition in Westmoreland on Wednesday, August 03.
Reports from the Savanna-la-Mar police are that about 11:00 p.m., on Wednesday, August 02, a team of officers conducted an intelligence led operation, during which they intercepted a Toyota Probox motor car. A detailed search of the vehicle resulted in one Smith and Wesson .40 pistol with nine .40 cartridges, hidden in a section of the trunk.
The three men were subsequently arrested; however, their identities are being withheld pending further investigations.