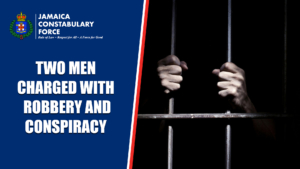 Relentless investigations by detectives assigned to the St. Andrew Central Criminal Investigations Branch (CIB) led to the arrest and charge of two men following a robbery on Melmac Avenue in Cross Roads, Kingston 6 on Friday, June 16.
Charged with Robbery with Aggravation, Conspiracy and Accessory After the Fact are:
· 19-year-old Jahmar Gayle otherwise called 'Day Day', of Spanish Town Road, and
· 21-year-old Norris James otherwise called 'Justin', of Bones Road, both in Kingston 13.
Gayle and James will join their alleged accomplices 38-year-old Mario Simpson otherwise called 'Jawbone', 27-year-old Lance English otherwise called 'Bredda Lane', and 26-year-old Dandrea Cross otherwise called 'Day-Day', who were previously charged with Robbery with Aggravation.
The Half Way Tree Police reported that about 4:00 p.m., two persons were beaten and robbed of their properties. The police were informed that the accused men were travelling in a blue Honda fit motor car.
A patrol team intercepted a blue Honda fit motor car along Beechwood Avenue with the five men aboard; three of them fit the description given by the complainants.
All five were taken into custody, where Simpson, English and Cross were pointed out during an Identification Parade. The men were subsequently charged on Friday, June 23 following interviews. Gayle and James were charged on Monday, June 26. Their court date is being finalised.