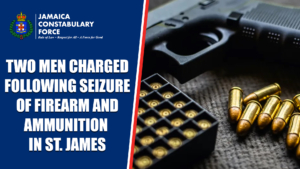 Two men have been charged for breaches of the Firearms (Prohibition, Restriction and Regulation) Act following the seizure of a firearm and ammunition in Shortwood, St. James on Sunday, July 02.
Charged with Unauthorized Possession of Prohibited Weapon and Unauthorized Possession of Ammunition are:
· 31-year-old Oshane Simon, labourer of Maizeland, St. James, and
· 36-year-old Demarly Parchment, welder of Shortwood, St. James.
Reports from the Cambridge Police are that about 1:30 a.m., a joint police/ military team saw the two men sitting inside a vehicle that was parked along the roadway. The men began acting in a manner that aroused the suspicion of the team. A search was conducted and – One Glock pistol with a magazine containing three .45 cartridges was seized.
They were subsequently arrested and charged. Their court date is being arranged.