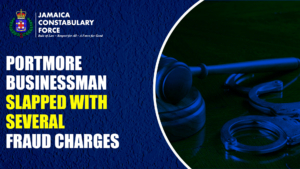 A Portmore businessman has been slapped with several fraud charges after prospective customers filed reports to the police on incidents that occurred between January and June 2022.
Forty-three-year-old Ricardo Chambers, a furniture maker of Nadine Road in Edgewater, Portmore, St. Catherine has been charged with:
Fraudulent Conversion (3 counts)
Non-Delivery of Goods and Services on a Contracted Date (3 counts)
Misleading and Deceptive Conduct (3 counts)
The Portmore Police reported that in January 2022, Chambers was contracted by a woman to build a king-sized bedroom set. She paid $175,000 JMD as down payment and was told the balance should be paid in March, when the job is completed. Chambers, however, did not deliver on his contract and instead went into hiding.
In April 2022, a man reportedly contacted Chambers via an Instagram account, where his business was advertised. The man reportedly contracted him to build a dresser and two-night tables; he made a down payment of $60,000 JMD with the balance to be paid upon completion of the job. Chambers again did not complete the job and neither did he provide a refund.
Chambers was again paid $90,000 JMD as a deposit by a woman in June 2022 to build a dresser, scheduling the balance to be paid upon completion of the job. He again failed to honour the contract and again went into hiding.
All complainants made reports to the police and a probe was launched. Chambers was subsequently arrested and charged. His court date is being arranged.
Meanwhile, the police are inviting other members of the public who may have been victims of this furniture maker to contact the Portmore Criminal Investigations Branch (CIB) at 876- 949-8403.