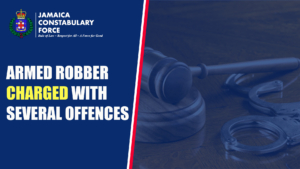 Twenty –four-year-old Collin Campbell, a grounds man of Paradise Street, Kingston 16 has been charged with
Assault with Intent to Rob,
Unauthorized Possession of a Prohibited Weapon,
Unauthorized Possession of Ammunition and
Using a Firearm to Commit a Felony following an incident on Wednesday, June 14.
Reports are that on Wednesday June 14 about 5:11 p.m., Campbell and his accomplice drove a motorcycle to a petrol station on Slipe Road in Kingston, where a gun was pointed at a female pump attendant and her properties demanded. The woman raised and alarm and a security guard on duty confronted the men. They both escaped in the area leaving behind a weapon.
One of the culprits later showed up at hospital with gunshot wounds. He was later placed under police guard. Upon his release he was charged.
His court date is being finalised.