Citizens Welcome Newly Refurbished Franklyn Town Police Station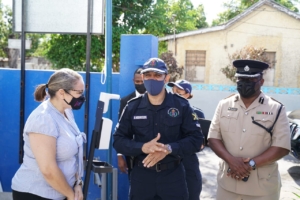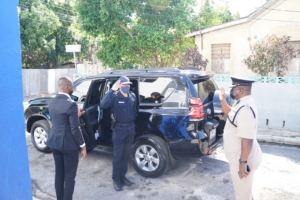 March 16, 2022– On Wednesday, March 16, the Commissioner of Police, Major General Antony Anderson joined other government officials at the official handing-over ceremony of the newly refurbished Franklyn Town Police Station.
During his address to the Franklyn Town residents and the local police, Major General Anderson expressed his continued support for projects like these. The refurbishing of the Franklyn Town Police Station was facilitated by the Jamaica Social Investment Fund and the European Union. According to Anderson, this latest project was in keeping with the JCF's vision of having all police stations rebuilt or refurbished to provide modern, fit-for-purpose spaces for the policemen and women of the Constabulary as well as the people they serve.
The Commissioner of Police also took the opportunity to encourage the residents to assist the police by sharing information on guns, gangs and gunmen. He assured them that the high command and its stakeholders remain resolute in curbing the pandemic of crime. "We have continued our pursuit and we are capturing the gunmen, dismantling gangs, and removing the guns from our streets," he said.
He assured the citizens that the police continue to pursue the highest standard of customer service through the International Organization for Standardization (ISO 9001), as the police seek to create a better relationship with the citizens of Jamaica.
The Miniister of National Security – Dr. Horace Chang,CD, MP, Mr. Donovan Mitchell- Member of Parliament- Kingston Central, Major General Antony Anderson, Commissioner of Police , Mr. Aniceto Rodriguez Ruiz – Head of Cooperation, Deleglation of the European Union to Jamaica, Mr. Omar Sweeny- Managing Director Jamaica Social Investment Fund and Dr. Wayne Henry- Chairman, Jamaica Social Investment Fund, were among the stakeholders in attendance.
https://jcf.gov.jm/wp-content/uploads/2022/03/WhatsApp-Image-2022-03-16-at-3.46.52-PM.jpeg
853
1280
Jahvarn Brown
https://www.jcf.gov.jm/wp-content/uploads/2019/07/LOGO-JCF-300x60.png
Jahvarn Brown
2022-03-16 20:43:28
2022-03-16 20:43:46
Citizens Welcome Newly Refurbished Franklyn Town Police Station