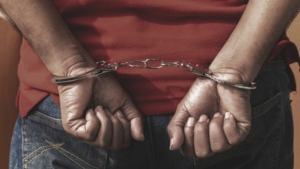 A man was arrested by the Half Way Tree Police following the robbery of two business establishments in the area on Monday, January 10.
Detectives are reporting that at noon, a group of men robbed two cellular phone stores within the town centre. One of the men boarded a bus, however, the Police Quick Response and Traffic Patrol team in the area intercepted the coaster bus and captured the culprit. The bus was searched and a .45 pistol and five rounds of ammunition were seized.
A further search of the bus yielded 20 cellular phones, believed to be those stolen. The identity of the suspect is being withheld pending further investigations.