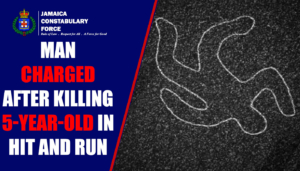 Thirty-three-year-old William Bell of Bunkers Hill in Clarendon was charged with Causing Death by Dangerous Driving after he turned himself into the Police on Tuesday, October 17.
Reports are that at 3:30 p.m., on Wednesday, October 11, the life of 5-year-old Demaris Davey of Bunkers Hill, Frankfield, Clarendon was cut short after he was hit by a Toyota Probox motor car that Bell was driving.  After the accident, Bell fled the scene. Demaris was taken to hospital where he was pronounced dead.
Bell appeared before the Lionel Town Parish Court on Friday, October 20 where he was offered bail at JMD 1,000,000. He is to reappear before the court on Monday, December 04.