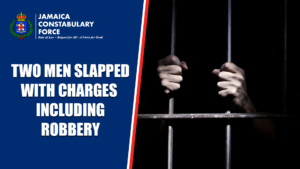 Two men have been slapped with several charges following a series of events which commenced at Ken Hill Drive, Kingston 20 on Thursday, June 15.
Charged with Robbery with Aggravation, Unauthorized Possession of Prohibited Weapon, Unauthorized Possession of Ammunition and Using a Firearm to Commit a Felony are:
Tevin Foster otherwise called 'Rain' and 'Bear', 22, of Fearon Crescent in Portmore Gardens, St. Catherine, and
Enneka Smith otherwise called 'Caution' and 'Emi', 30, of Riverside Drive, Kingston 20.
The Hunts Bay Police reported that both men along with another accomplice held up and robbed a group of men of their properties, including a Toyota Probox motor car. They were chased by the citizens and reportedly collided with a Toyota Altis motor car that was being driven by a police officer at the intersection of Woodlawn Avenue and Molynes Road.
The officer joined the group in pursuit of the men and they ran from the vehicle. They were later apprehended by the group.
They were charged on Sunday, July 02 following interviews in the presence of their attorneys.
Their court date is being arranged.